VanMoof designs e-bikes made for city riding.
When I joined the company as Head of Experience Design in 2020, it was 150 people and had just launched a new bike, designed and built all in house. In the two-and-a-half years since, we've scaled the company to 800, designed an even better bike from scratch, and built out all of the systems that support operational efficiency through rapid expansion.
Introducing New Ways of Working
When I joined VanMoof, there was a single in-house designer taking care of the rider app, user manuals, the website, and more. In two years, I grew the team from one to twelve, taking on new challenges and establishing processes along the way.
One of the first challenges we tackled was establishing a healthy collaboration with developers. Some teams already had a strong way of working with an approach based on user needs and cross-disciplinary collaboration, while others saw design as little more than shapes and colors to be added at the end. In both cases, we continued to work within development sprints to design, refine, build, and test features, while also introducing more strategic processes in front of the Agile structure to ensure that we were tackling the right problems, prioritizing the right features, and producing consistent systems and experiences for our users.
This new way of working led to a stronger collaboration with our marketing and operations stakeholders. With a small company, everyone is connected and organic communication is sufficient for understanding and delivering on business objectives; however, scale requires process to ensure that goals are documented, approaches are aligned, and objectives are met. The design team helps to bridge this growing gap in our organization by facilitating workshops to gather input and drive alignement, meeting regularly with stakeholders to understand the problems they're facing, and checking in with users to ensure that their perspectives are present in everything we do.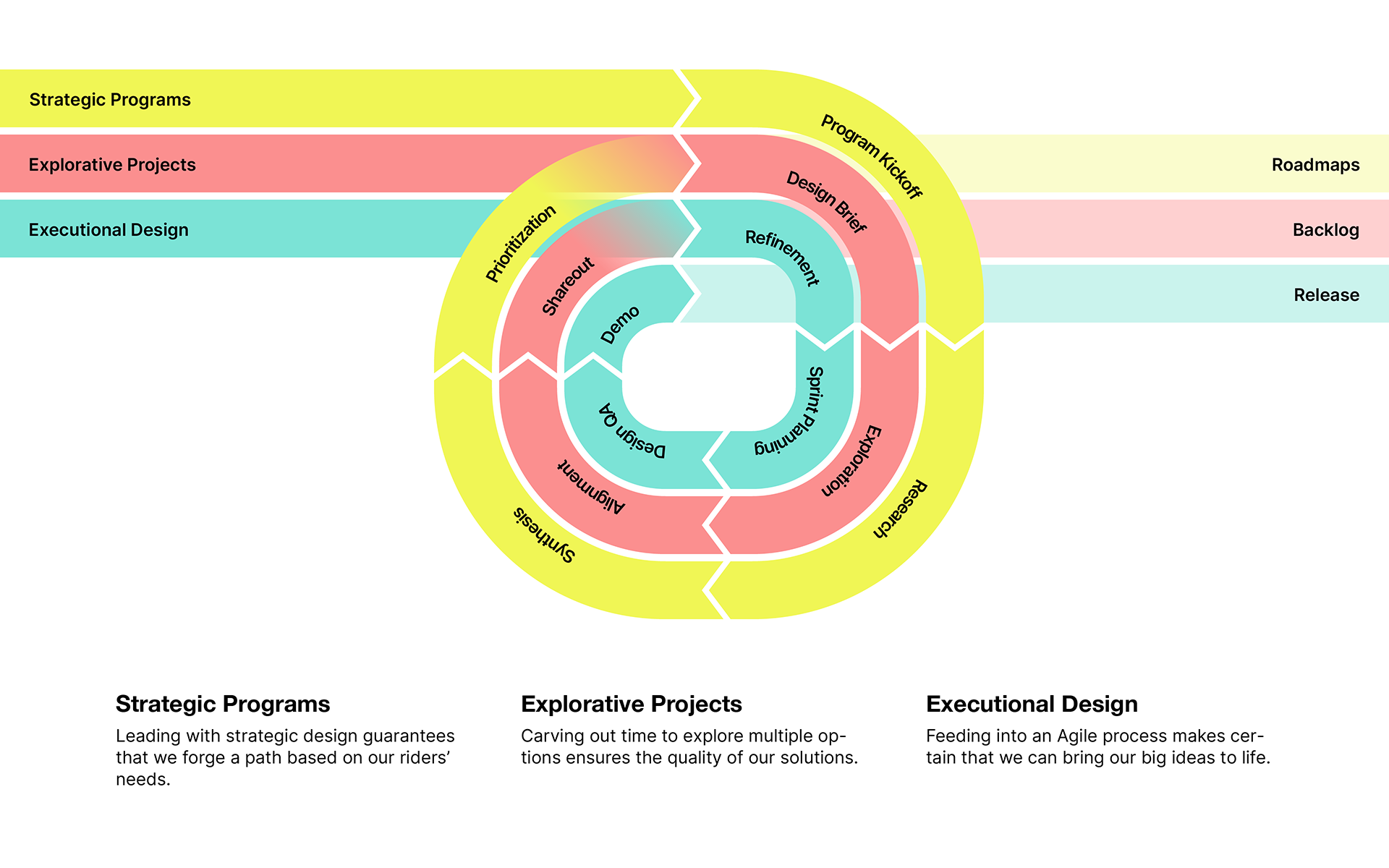 Within months of joining VanMoof, I introduced a new process that included the time and space for research and exploration.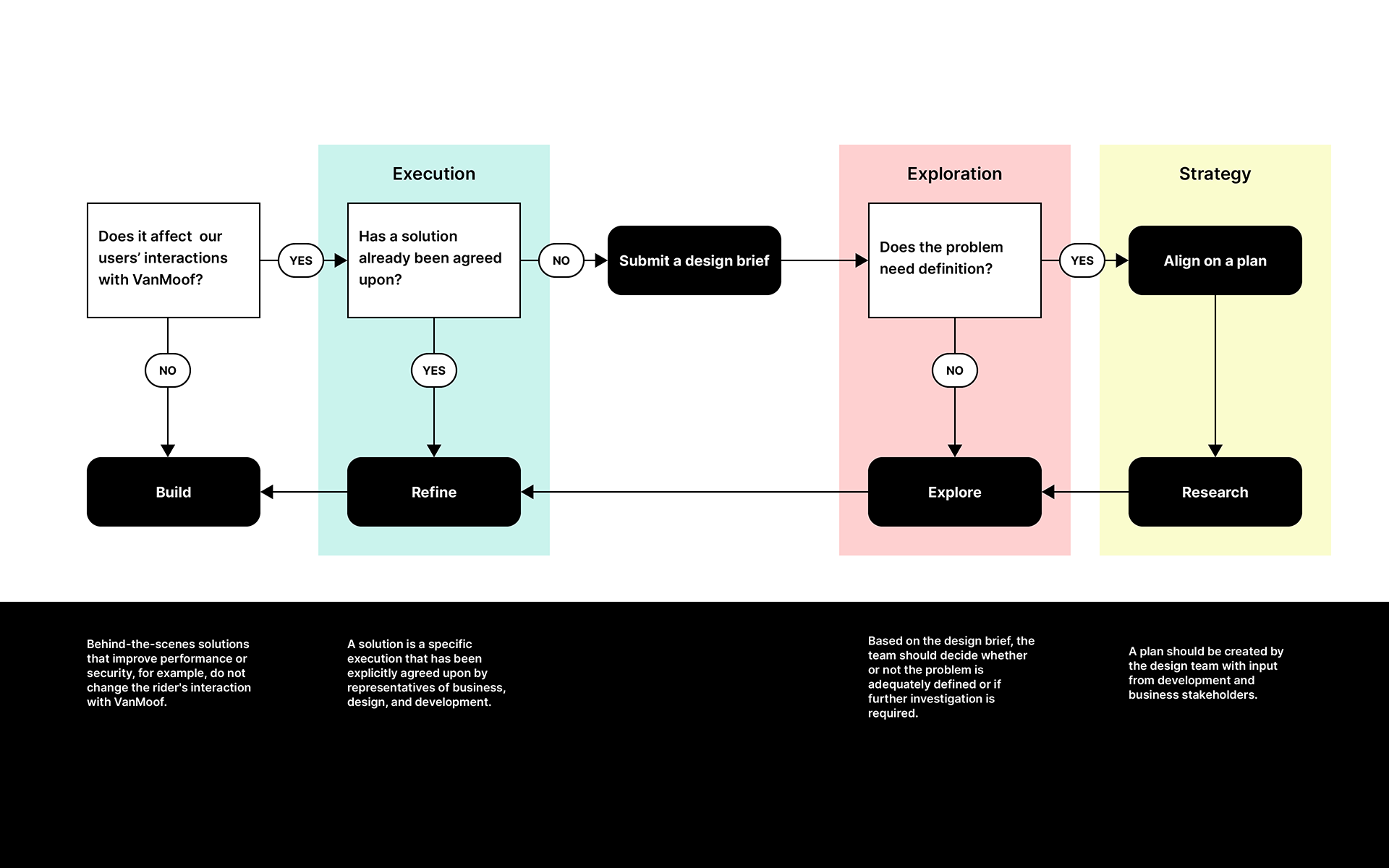 New processes rely on clear communication to succeed, and a bit of road-showing (and patience) was needed to get everyone onboard.
Growing the Team
Going from one designer to twelve teammates of different levels and skillsets requires a lot of planning and constant reassesment, as every new member changes the overall shape of the team.
When I joined VanMoof, the structure was one that had grown organically, and team divisions were more around tech stacks than anything else. I began by hiring for a design team structured around the rider's experience, with sub-teams focused on user groups with common goals – potential riders, riders, and internal users. For each sub-team, we aimed to have one Experience Designer who would look more broadly across the experience to ensure we were chasing the right opportunities and creating consistency. We also had at least one Product Designer, integrating closely with scrum teams to bring features to life. As our development teams grew and divided, we introduced a leadership layer to manage multiple product designers, taking responsibility for both the work and the people within each sub-team.
Along with traditional design competencies, we've also added content strategy and UX writing to the team, and have plans to grow with design ops and research teams.
Hiring and building a team during a pandemic had its challenges, but fun was not one of them.
In growing the design team at VanMoof, it's been a priority to hire people of diverse mobility backgrounds. A city like VanMoof's native Amsterdam has a much taller-than-average population who are comfortable riding bikes thanks to some of the best cycling infrastructure in the world. This context is great for VanMoof; however, if we only design for tall, bike-loving people in easy-to-ride cities, we're limiting our reach. By building a team of diverse people from diverse contexts, we approach problems with multiple perspectives and are constantly checking each other's biases as we develop solutions.
I established a growth framework to make it clear what was expected of each role and what opportunities existed for career advancement.
With a growing team, it's important to provide people with clear guidance for both what's expected of them as well as how they can grow within the organization. After six months at VanMoof, I introduced a growth matrix for the design organization. This matrix took three things into account. First, it promotes T-shaped growth to ensure that designers can empathize with and understand other parts of the organization. Second, it provides opportunities of equal levels for both the management and individual contribution growth paths. Third, it sets clear requirements while also being flexible enough to accommodate people who defy categorization.
Creating a Design Language
VanMoof has a beautiful product. It's the goal of the experience design team to bring the entire experience, whether a rider is riding or troubleshooting a problem with their bike, to the same level of polish as our iconic bike.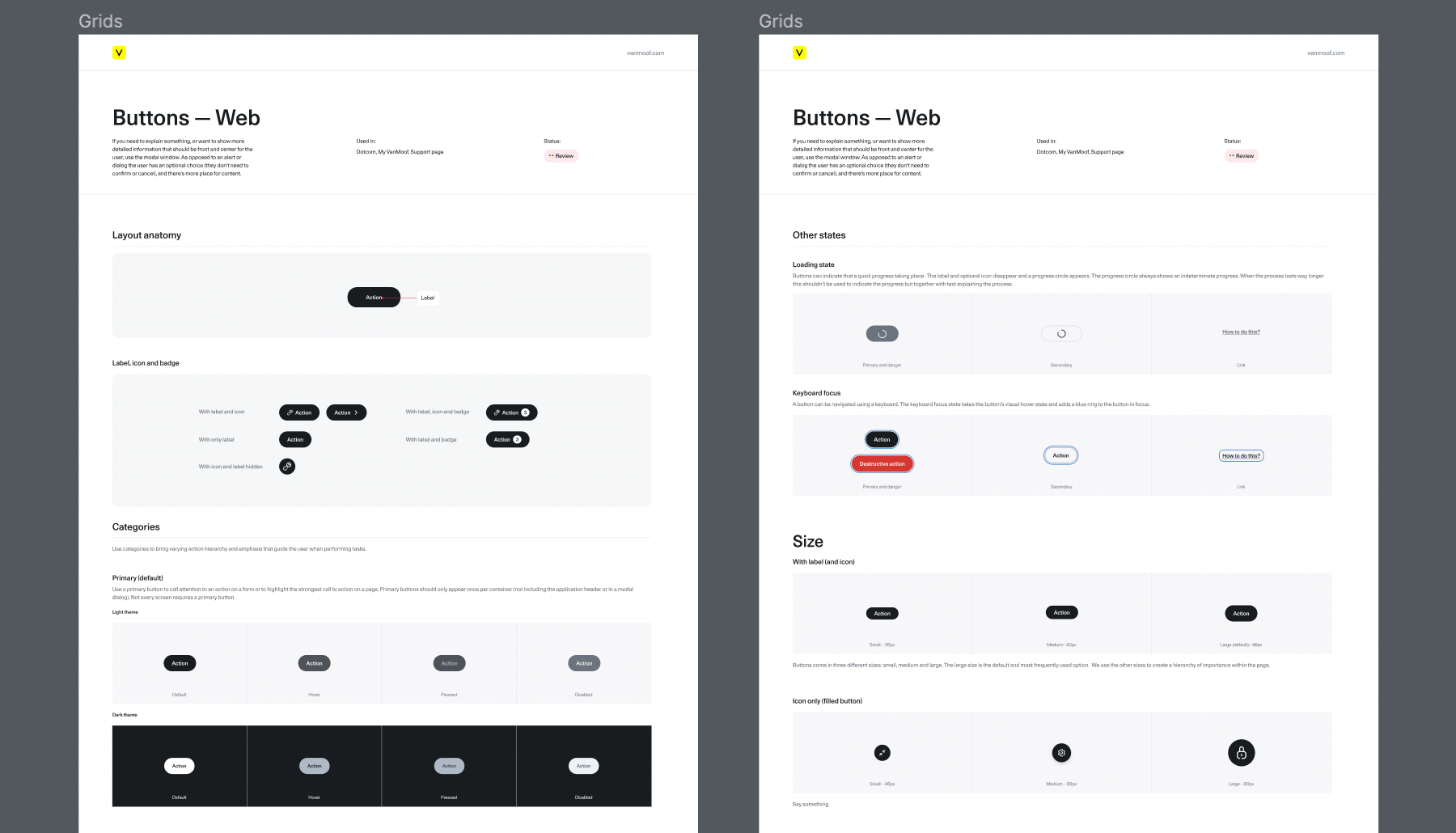 The design language team created both tactical and philosophical documentation.
As our team took on more touchpoints, we felt the increasing pressure to extend our component libraries into a design language that could be shared across teams. At VanMoof, we see a design language system (DLS) as a collection of standards, assets, and governance processes working together to create consistency and continuity across interactions with our company.
While colors, typography, and corner radii are important for a shared look and feel, our DLS starts by pushing the consideration of bigger topics like intuitiveness of interaction, accessibility, and scaling to multiple contexts. If we cannot ensure that our riders can perform the most important interactions with one hand while holding an umbrella in the other, no button color or shape will save us. These sorts of "umbrella-tests" help guide our decisions and ensure quality while creating cohesion across the experience.